UN75 Global Governance Forum Presenter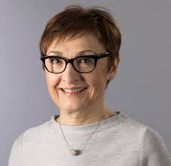 Dr. Branka Agic is the Director of Knowledge Exchange and an Independent Scientist at the Centre for Addiction and Mental Health (CAMH), Toronto, Canada. She is also Assistant Professor at the Dalla Lana School of Public Health (DLSPH) at the University of Toronto, and is currently serving as Associate Field Director of the Master of Science in Community Health (MScHS) degree program in Addiction and Mental Health at DLSPH. 
Branka holds a PhD in Health and Behavioral Sciences from the University of Toronto, along with a Medical Degree from the University of Sarajevo, Bosnia and Herzegovina.
She has extensive experience in counselling, research and service development with immigrants and refugees. Branka's primary research interest is in the area of mental health and substance use among immigrants and refugees with a focus on social determinants of health and access to services.
 [https://www.dlsph.utoronto.ca/faculty-profile/agic-branka/]