Psychiatrist, Mental Health Rights Advocate and Lecturer
Mental Health Director & Co-Founder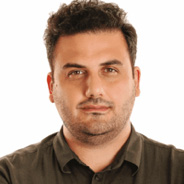 Essam Daod is the mental health director of Humanity Crew, as well as one of the co-founders. A psychiatrist in profession, Essam specializes in child and adolescent psychiatry and graduated from psychoanalytic school. He is an avid refugee mental health activist and researcher who has spoken in countless conferences and media outlets all over the world advocating for the importance of mental health support for refugees. In 2018, he became a WHO mental health expert team member, and a TED Fellow. Essam's job in the organization is to overlook all mental health work done by our experts and our volunteers, lead and do field research, write reports on our findings, advice the organization with the proper mental health approaches to various subjects, runs the volunteer trainings, and raises awareness globally on the subject of mental health of refugees. Essam also overlooks all projects, alongside Maria, and ensures that they are medically correct and adaptable.