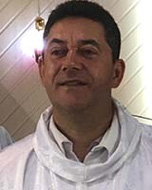 Fr. Jairo Guidini c.s. is currently the Executive Director of the Scalabrini International Migration Network (SIMN), in New York, and Executive Secretary of the Pastoral of Human Mobility in the Peruvian Episcopal Conference. Before leading the SIMN, Fr. Guidini worked as Director of the Casa Beato Juan Bautista Scalabrini in Lima, Peru.
Father Jairo has extensive experience working in South America, particularly in Asuncion, Paraguay, as parish priest of the Parish of Las Mercedes and chaplain of immigrants in the Archdiocese of Asunción. He helped to found the FEDIPAR (Federation of Immigrants in Paraguay), in Paraguay. This foundation is the only one recognized by government migration authorities as a representative of migrants in civil society.
Fr. Jairo also reactivated the Scalabrinian Foundation in Paraguay of the Scalabrini International Network (SIMN) under the name Scalabrini Foundation for Migration (FSM), of which he was the Director. Before coming to Asuncion, he spent three years in González Catán, in Buenos Aires as Diocesan Delegate of Migrations in the Diocese of La Ferrere and pastor of the Fatima Parish where he was also the chaplain of the Portuguese community in Argentina.
While still studying theology in São Paulo, Brazil, he worked with Spanish-speaking migrants on the weekends. He finished his theology, and philosophy degree in São Paulo, which had already begun at the University of Caxias do Sul, Rio Grande do Sul, Brazil.