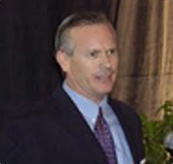 I have dedicated my life to discovering and disseminating a multi-disciplined approach gleaned from 30 years of training thousands of athletes, corporate employees, and children to address the overall wellness and safety of children. By delivering the globally proven Brain Breaks® wellbeing program to the world and (1) Provide a turnkey transparent fiscally sustainable revenue model for all stakeholders especially school mental health programs (2) Establish a global model for the world's billion + students to measure their overall health, their impact on the environment, community stewardship, and lifetime readiness for careers and charitable goals as a means to advance the SDG 2030 Agenda (3) Educate and develop youth ambassadors to promote socially-valuable change within their family, school, and community to create Smart Cities.
Understanding the need of providing resources to the most underserved, Tom and his team have overseen the development of a trademarked and peer-reviewed scalable wellness platform, Brain Breaks, which currently reaches 2+ Million children/day in over 70 countries, and is targeting exponentially more via a partnership that Tom negotiated with the UNGSII Foundation.
Over the years Tom has delivered professional development to schools and after-school programs across the planet, has consulted a number of corporate councils, and has built a global network of school, organizational, community and corporate partnerships that include The Harlem Globetrotters, Cartoon Network, NFL Play60, The United Way, AAPHERD, USRowing, USA Volleyball, WNBA, Blue Cross Blue Shield, the American College of Sports Medicine, the Arthur M. Blank Family Foundation, American Heart Association, Cleveland Cavaliers, Chicago Bulls, Detroit Lions, Milwaukee Brewers, Sodexo, the US Army, the US Navy, and the Children's Hospital of Atlanta to name a few.
In 2006, Tom was the recipient of the Hero of the Year Award from the Sports and Fitness Industry Association.